PROGRESS: strong 15%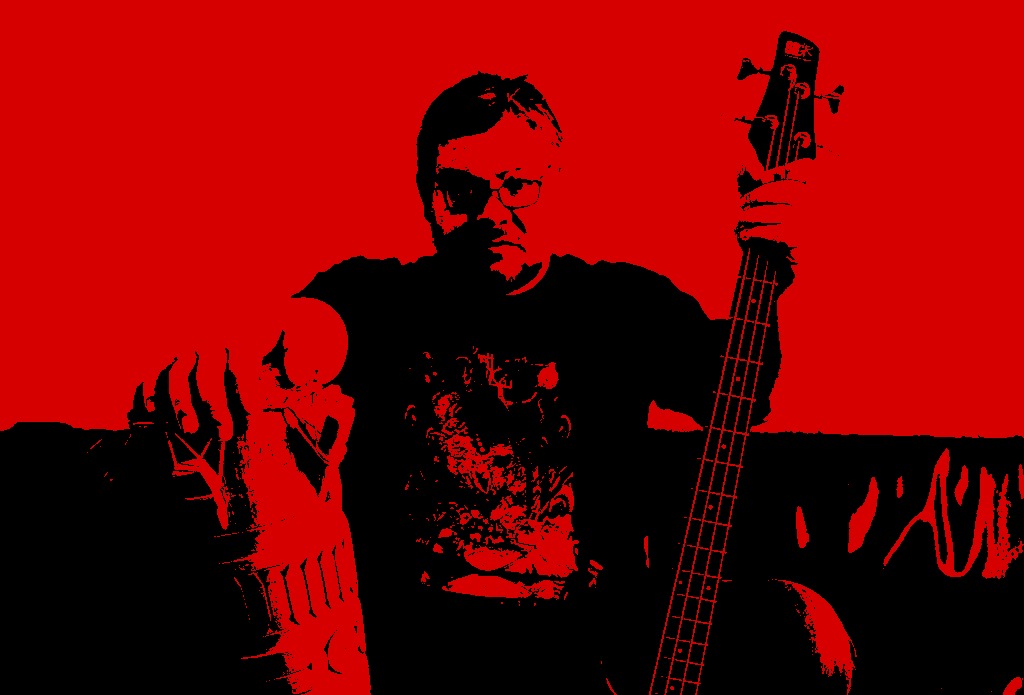 Welcome to the ultimate guide to the discography of Gnaw Their Tongues & related. GTT is the main project of Dutch artist Maurice de Jong. In recent years, he put aside this moniker to focus on his numerous other side-projects. Maurice/Mories is best known for bastardizing all kinds of dread-inspiring music to paint a landscape of perversities and make his listeners crap themselves. His main instrument is the bass, this is what he plays in live settings and it provides this monolithic foundation for a lot of his music. He uses the bass in unorthodox ways, sometimes entirely replacing the guitar, which is quite uncommon for Metal music.

His music can also be very electronic, sometimes entirely. In fact, if he often falls into more classic forms of extreme metal, his music is just as equally rooted in the noise/industrial scene, as you can hear from the first Gnaw Their Tongues releases up until 2010 or so. In layman's terms, if you're looking for some Silent Hill-esque (quasi-)metal, forget about everything else, this is the band, this is pure demented horror music.

Ah, did I mentionned he plays all the instruments and produced most of his records all by himself? The artworks are also mainly from his hand, which is pretty impressive (isn't he a graphic designer in real life? I believe I read that somewhere). In my eyes, he's the most dedicated one-man band there is, and we're not talking about crappy harshnoise releases, it's all composed music, and it's pretty consistently great, quality-wise.

Note: These are not reviews or assessment of his work, just a map. Essentials will be bolded for clarity. The goal here is for the reader to quickly know what to expect from all these records. Hopefully, this will give you a clear(er) picture of Mories catalogue.

Disclaimer: GTT's themes/lyrics might appear straight-up problematic to some, especially those unfamiliar with edgy music like Industrial and Metal in general, but bear in mind these are narrative lyrics, yes, of the screwed up kind, even for the initiated, but Mories ain't a maniac, he is just telling stories. Like most horrorheads, he seems like a chill guy in real life. Also, not all his work is doom and gore, he does make light-hearted music through his various shoegaze-y projects (SEIROM to start with) and his Dungeon Synth stuff (Vetus Supulcrum is highly recommended).

Disclaimer²: at first, while I'm drafting it, this guide will look an half-assed Scaruffi page, but in the end I want to offer something pretty complete and more than just a mundane list, and hopefully, we'll figure out what the fuck is wrong with this guy.
Until the progress is marked 100 %, you can't trust everything I write here, sorry about that, hopefully any trace of cringe and BS will be gone by the time the page is completed, and it will be, I promise. I will update this page bit by bit, probably one project per week, so I have time to digest the music I don't know yet. At a later date, I will also add a list of interviews, as well as a TL;DL compilation (Spotify, or Mediafire for the naughty people).

Here is the Bandcamp page, where you'll find 95% of the stuff mentionned here, some of the stuff you can download for free; and his secret YouTube channel, the official site and the BC community section with regular updates.


This will be a long series of entries, more than 150 releases from (mostly) just one guy, through 36 projects. Yes, this sounds ludicrous, that's why I'm doing this. I found out there's a way to make this look compact in HTML, so I'll take advantage of it. Here's the list of his projects. Until it's fully done, I'll annotate with stars (from * to ***) what's close to completion, ignore the rest.
CLICK ON THE ARROW TO UNFOLD THE INFO.
---

Industrial:

Gnaw Their Tongues* (2004-…, 55 releases)

---

Overview:
The project Mories is best known for, that's the big one. It oscillates between experimental Industrial Sludge with bombastic orchestral elements and straight Black Metal. I've seen it described as cinematic black ambient, symphony from the abyss, hellbient, etc. Very unique music in my opinion (why do you think I'm making this page? haha), not many people can dive this far into the depth of insanity.

Highlights & comments: (coming soon)
Given the number of releases, I made a "Selected Discography" section, this is based on the coverage I recall it got. I also color-coded it to highlight the dominant genre: orange for industrial, red for metal.

Favorite tracks: (coming soon)

Selected Discography





Dimlit Hate Cellar (EP, 2004)
Spit at Me and Wreak Havoc on My Flesh (Full-length, 2006)
Reeking Pained and Shuddering (Full-length, 2007)
An Epiphanic Vomiting of Blood (Full-length, 2008)
For All Slaves... a Song of False Hope (EP, 2008)
All the Dread Magnificence of Perversity (Full-length, 2009)
To Rend Each Other like Wild Beasts, till Earth Shall Reek with Midnight Massacre (Full-length, 2009)
L'arrivée de la terne mort triomphante (Full-length, 2010)
Eschatological Scatology (Full-length, 2012)
Abyss of Longing Throats (Full-length, 2015)
NV (Collaboration with Dragged into Sunlight, 2015)
Genocidal Majesty (Full-length, 2018)
Kapmeswonden en haatliederen (Full-length, 2018)

Other Works




Horse Drawn Hearse (EP, 2006)
Deathdrone 3 (EP, 2007)
Forest / Rapture 2007 (Demo, 2007)
Preferring Human Skin over Animal Fur (EP, 2007)
...Spasming and Howling, Bowels Loosening and Bladders Empyting, Vomiting Helplessly... (Compilation, 2007)
Die Mutter wählt das Todtenkleidchen (EP, 2007)
Issei Sagawa (EP, 2007)
Bubonic Burial Rites (EP, 2007)
Dawn Breaks Open like a Wound That Bleeds Afresh (EP, 2007)
Constructing Enochian Temples / Mary Magdalene (Split, 2008)
Devotion (EP, 2008)
My Womb Is Barren (EP, 2008)
Narcosa / Gnaw Their Tongues (Split, 2008)
The Genocidal Deliverance (Single, 2008)
Gnaw Their Tongues / Lunar Miasma / Mrtyu / Xela (Split, 2009)
Painforged / Gnaw Their Tongues (Split, 2009)
Sulfur (EP, 2009)
Kaolo (EP, 2010)
In Hoc Signo Vinces (Split, 2010)
Tsutomu Miyazaki (EP, 2010)
The Blotched and the Unwanted (Compilation, 2010)
Per Flagellum Sanguemque, Tenebras Veneramus (Full-length, 2011)
Corephallism / Gnaw Their Tongues (Split, 2012)
Demonologists / Gnaw Their Tongues (Split, 2012)
Lurking in the Shadows (Split, 2012)
Mars (Split, 2012)
Sulfur (EP, 2013)
Dyodyo Asema (Collaboration, 2014)
Wir essen Seelen in der Nacht (EP, 2014)
Collected Atrocities 2005-2008 (Compilation, 2015)
Split LP with Actuary (Split, 2016)
Wenn die leere Seele zur Hölle fährt (EP, 2016)
Hymns for the Broken, Swollen and Silent (Full-length, 2016)
Gnaw Their Tongues / Bismuth (Split, 2017)
Chambers of Tuam (EP, 2017)
A Raven Flew over the Land of the Beheaded Children (EP, 2017)
Aan het licht teruggeven (EP 2015-2017) (EP, 2018)
Burning Ad Infinitum (Collaboration with Crowhurst, 2018)
The Atrocious Silence of Our Wounds (EP, 2018)
An Eternity of Suffering, an Eternity of Pain (Full-length, 2019)
I Speak the Truth, Yet with Every Word Uttered, Thousands Die (Full-length, 2020)
Hate (Single, 2021)

---

Extreme Metal:

Cloak Of Altering** (2011-…, 9 releases)

---

Overview:
Electronic-heavy Black Metal. Ostensibly electronic beats, mixing odd electronic rhythm with blast-beats, and fuzzy no-cab Burzum-esque black metal guitars, creepy raspy vocals and wild mechanical synth arpeggios. This project is actually influenced by Norwegian weirdo band Dødheimsgard. Overall, COA is nowhere near as dark as GTT, but it's still pretty brutal stuff. It is ethereal and cranky at the same time, with spiteful lyrics. In the continuation of the DnB Black Metal crossover project he had in the 90s, Ophiuchus.

Highlights & comments:
The first EP, NONE was a good starting point, it lays the foundation for the sound, not as accomplished as later releases though. Released a year later, Plague Beasts is noisier, whackier and more abrasive than NONE, it is also stronger and way more diverse in the production department. For the full experience, listen to this. Zero Devil has a weird production, loud mix and super aggro guitars. Sheathed... is the last record to date for this project, it has more dynamics, with many quiet ambient parts, the production feels wider, and it all sounds very well executed. He dialed back a little with the breakcore stuff on this one for more subdued (and more sophisticated) electronic bits. Many spoken word parts here too. Here is his track by track comments for the album.

Favorite tracks:

Discography





The Night Comes Illuminated with Death (Full-length, 2011)
Ancient Paths Through Timeless Voids (Full-length, 2012)
None (EP, 2013)
Plague Beasts (Full-length, 2014)
Manifestation (Full-length, 2015)
I Reached for the Light That Drowned in Your Mouth (Full-length, 2017)
Zero Devil (Full-length, 2018)
Sheathed Swords Drip with Poisonous Honey (Full-length, 2021)

---

De Magia Veterum* (2003-…, 9 releases)

---

Overview:
Formed in 2003, one year before GTT. Relentless Black Metal with unpolished synthesizers supporting the riffage. Strong sacred biblical undertones in the texts, which always reminded me think of Deathspell Omega and the orthodox stuff. The names come from a track by Necromantia, a Greek band known for relying primarily on bass instead of guitars just like Mories does.

Highlights & comments: (coming soon)


Favorite tracks:

Discography





Clavicula Salomonis (EP, 2005)
Spikes Through Eyes (Full-length, 2006); re-released as Verus Diuinus Magus (Compilation, 2008)
The Blood of Prophet and Saints (EP, 2006)
The Apocalyptic Seven Headed Beast Arisen (EP, 2007)
Migdal Bavel (Full-length, 2009)
In Conspectu Divinae Majestatis (EP, 2010)
The Divine Antithesis (Full-length, 2011)
The Deification (Full-length, 2012)
Naked Swords into the Womb of the Enemy (Full-length, 2017)

---

Hagetisse (2017-…, 6 releases)

---

Overview: (coming soon)


Highlights & comments: (coming soon)


Favorite tracks: (coming soon)

Discography





Werg devoot (Full-length, 2017)
Godendraak (Full-length, 2017)
The Sinister Flight of Cursed Souls Through Eternal Night (Full-length, 2017)
De reis van vernielde zielen (Full-length, 2019)
The Seven Sorrows of the Virgin (Full-length, 2020)
De verminkte stilte van het zijn (Full-length, 2022)

---

Caput Mortem (2015-…, 6 releases)

---

Overview: (coming soon)


Highlights & comments: (coming soon)


Favorite tracks: (coming soon)

Discography





Cult of Doom (EP, 2015)
His Sombre Wrath (Full-length, 2015)
Cold Winds on the Bare Mountain (Full-length, 2017)
Return of the Sinister (EP, 2018)

---

Grand Celestial Nightmare (2016-…, 6 releases)

---

Overview: (coming soon)


Highlights & comments: (coming soon)


Favorite tracks: (coming soon)

Discography





The Void of Death (Full-length, 2016)
Drink from the Chalice with Nightly Lust (EP, 2020)
Forbidden Knowledge and Ancient Wisdom (Full-length, 2021)
Excluded from Light and the Pleroma (Full-length, 2022)

---

Dodenbezweerder (2019-…, 7 releases)

---

Overview: (coming soon)


Highlights & comments: (coming soon)


Favorite tracks: (coming soon)

Discography





Rehearsal 20/02/2019 (Demo, 2019)
Rehearsal 27/02/2019 (Demo, 2019)
Zwarte sluiers (EP, 2019)
De rook van de pijniging zal opstijgen tot in de eeuwigheid (Demo, 2019)
Vrees de toorn van de wezens verscholen achter majestueuze vleugels (Full-length, 2020)
Als de statige somberheid van het knekelhuis (EP, 2021)
Rehearsal August 2022 (Demo, 2022)

---

The Black Mysteries (2018-…, 3 releases)

---

Overview: (coming soon)


Highlights & comments: (coming soon)


Favorite tracks: (coming soon)

Discography





Lemegeton (Full-length, 2018)
...and the Opening of the Shadowy Sepulchre That Yawns Behind It (Full-length, 2021)
Blessed Conjuration Of Celestial Atrophy (Full-length, 2022)

---

Pyriphlegethon (2014-…)

Ambient/Shoegaze:

ADERLATING (2008-…, 15 releases)

---

Overview: (coming soon)
In 2008, Maurice de Jong formed Aderlating with keyboardist Eric Eijspaart. Aderlating plays drone and noise-based music. Seems inactive since 2015. Biggest project on this list after GTT, although CoA, De Magia and Seirom took more importance in later years. Found out about it back in the day without even knowing the connection with GTT.

Highlights & comments: (coming soon)


Favorite tracks: (coming soon)

Discography





The Nectar of Perversity Springs From the Well of Repression (Full-length, 2009)
Defiler (Full-length, 2009)
Nekrasov (Full-length, 2010)
Devotional Hymns (Full-length, 2010)
Dood (Full-length, 2010)
Dying of the Light (EP, 2010)
Spear of Gold and Seraphim Bone, Part One (Full-length, 2011)
Curses and Conspiracies (Split EP with Actuary, 2011)
Crown of Bone (Full-length, 2012)
The Golden Mass (Full-length, 2012)
Wolven Nacht (Full-length, 2012)
Gospel of the Burning Idols (Full-length, 2013)
Spear of Gold and Seraphim Bone, Pt. 2 (Full-length, 2013)
Gold Streams From the Angel's Throat I (EP, 2015)
Hell Follows (Full-length, 2015)

---

SEIROM (2011-…, 13 releases)

---

Overview: (coming soon)


Highlights & comments: (coming soon)


Favorite tracks: (coming soon)

Discography





Seiromistkrieg (EP, 2011)
Forest (EP, 2011)
Eremitic (Full-length, 2011)
1973 (Full-length, 2012)
Goodbye Cold Nights (EP, 2013)
Sparkle Night (EP, 2013)
December Sleep (EP, 2013)
And the Light Swallowed Everything (Full-length, 2014)
Strandheem '92 (EP, 2014)
Mesmerized (EP, 2015)
Sunday Rain (EP, 2015)
I Was So Sad (Full-length, 2016)
Slow Waves (Full-length, 2018)

---

Golden Ashes (2018-…, 3 releases)

---

Overview: (coming soon)


Highlights & comments: (coming soon)


Favorite tracks: (coming soon)

Discography





The Desolation (EP, 2018)
Gold Are the Ashes of the Restorer (Full-length, 2019)
The Golden Path of Death Acceptance (EP, 2019)
In the Lugubrious Silence of Eternal Night (Full-length, 2020)
A Lightless Christ Shuns The Crown Of Divinity (Full-length, 2021)

---

Offerbeest

Dungeon Synth:

Vetus Supulcrum (2018-…, 3 releases)

---

Overview:
I'm not big on Dungeon Synth, but it blew my mind when I heard these records, as far as I know, he is quite an outsider in the scene, most fans of the genre are unaware of him, but… he's without contest in my top 3 (in my book, the two others are Old Tower and DRONN)

Highlights & comments: (coming soon)


Favorite tracks: (coming soon)

Discography





Journey Afar (EP, 2019)
Songs of War and Lamentation (Full-length, 2019)
Ravenforest (Full-length, 2019)
From the Land of Shadows (Full-length, 2019)
Windswept Canyons of Thule (Full-length, 2020)
The Unending Pale (Split with Execration Chamber, 2021)
Death's Oldest Song (Full-length, 2021)
A Shroud of Desolation (Full-length, 2022)

---

Schemer Heer (3 releases)
Druk Yul (2 releases)

Death/Doom:

One-shot projects (less than 2 releases):

Cadaver Shrine
BLACK MOUTH OF SPITE (2014-…)
CANTICLE
Coffin Lurker
Temple Mist
TEMPLE OF WILL

Obscuring Veil**

| | |
| --- | --- |
| | Fleshvoid to Naught (2019): Side-project with, among others, the guys from Wormlust and Ævangelist, and a female lead vocalist, Kabukimono. Weird and dissonant experimental BM not unlike Wormlust (which I really dig too), same slithering guitar riffs, but without the murkiness in the sound, the production on this record here is actually quite clear. Lots of keyboards/synths (Mories contribution), horror movie instrumentation and banshee wailings creating some very unsettling atmosphere. The LP is basically two long tracks each with a short non-Metal intro. No lyrics available. BANDCAMP |

Mystagogue
MORS SONAT
MALORUM
OPHIUCHUS
Pompidou (2006-…)
The Black Vomit (2019?-…)

Juvenilia:

Atrocious (1989)
Cauteror (renamed Soulwound in '93)
Eclipse (renamed Astral in '93)
UNDER THE WINGS OF BELIAL (1994?)
The Nefarious Cult (1997)
---

Interviews: (more coming)